Hotuba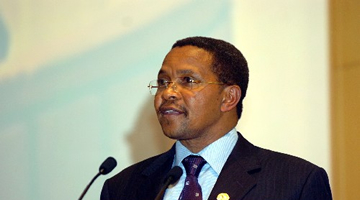 Hotuba ya Rais wa Jamhuri ya Muungano wa Tanzania, Dkt. Jakaya Kikwete, wakati wa ufunguzi wa Warsha ya Wazi Kuhusu Mfumo Mpya wa Ufuatiliaji na Tathimini ya U...
Soma zaidi
Hotuba
Mhe. Dkt. Mohammed Gharib Bilal, Makamu wa Rais wa Jamhuri ya Muungano wa Tanzania;
Mhe. Dkt. Ali Mohammed Shein, Rais wa Serikali ya Mapinduzi Zanzibar;
Mhe. Mizengo Kayanza Peter Pinda (Mb), Waziri Mkuu wa Jamhuri ya Muungano wa Tanzania;
Mhe. Seif Shariff Hamad, Makamu wa Kwanza wa Rais wa Serikali ya Mapinduzi Zanzibar;
Waheshimiwa Mawaziri na Manaibu Waziri;
Balozi Ombeni Sefue, Katibu Mkuu Kiongozi;
Makatibu Wakuu;
Dkt. Philip Mpango, Katibu Mtendaji wa Tume ya Mipango;
Washirika na Wadau wa Maendeleo;
Viongozi wa Taasisi za Serikali na Mashirika ya Umma;
Viongozi wa Kidini na Sekta Binafsi;
Wataalamu Elekezi kutoka PEMANDU na Mckinsey;
Washiriki wa Maabara;
Ndugu Wananchi;
Mabibi na Mabwana:
Napenda kuchukua fursa hii kuwakaribisha wote katika Warsha ya Wazi kuhusu mfumo mpya unaoanzishwa na Serikali wa ufuatiliaji na tathmini ya utekelezaji wa miradi ya kitaifa ya kipaumbele. Warsha hii inatoa nafasi ya pekee kwa wananchi kushiriki na kutoa mawazo yao jinsi ya kuboresha mfumo huo unaopendekezwa. Ni Warsha ya kuelimishana, kubadilishana mawazo na kufahamishana mipango na mambo ambayo Serikali inatarajia kuyafanya katika siku za karibuni.
Namshukuru Balozi Ombeni Sefue, Katibu Mkuu Kiongozi, Dkt. Philip Mpango, Katibu Mtendaji wa Tume ya Mipango, viongozi na watumishi wote wa Tume ya Mipango kwa kuandaa Warsha hii mahsusi. Kwa namna ya pekee nawashukuru pia wataalamu wa PEMANDU na McKinsey kwa kushirikiana vizuri na wataalam wetu katika kila hatua ya safari hii ambayo Serikali yetu imeianza.
Ndugu Wananchi;
Kupanga na kutekeleza mipango ya maendeleo sio jambo geni hapa nchini. Ni jambo ambalo tumelifanya tangu tupate Uhuru na tunaendelea nalo. Serikali ya Awamu ya Kwanza chini ya Baba wa Taifa Hayati Mwalimu Julius Nyerere, ilianza na Mpango wa Kwanza wa Maendeleo mwaka 1961 – 1964. Mpango huo uliainisha maadui watatu wa maendeleo ambao ni umaskini, ujinga na maradhi. Mikakati mbalimbali na mipango madhubuti ya maendeleo ilibuniwa ili kupambana na maadui hao. Baada ya hapo ukaja Mpango wa Maendeleo wa Miaka 15 wa mwaka 1964 – 1980, uliokuwa umegawanywa katika vipindi vitatu vya utekelezaji vya miaka mitano mitano.
Baadhi yenu mtakumbuka kuwa utekelezaji wa vipindi viwili vya mwanzo ulikuwa wa kuridhisha. Hata hivyo, utekelezaji wa kipindi cha mwisho cha Mpango ule, yaani kati ya mwaka 1975 – 1980, ulikuwa duni mno. Utekelezaji wake ulivurugwa sana na changamoto za wakati ule kama vile kupanda sana bei ya mafuta, kuvunjika kwa Jumuiya ya Afrika Mashariki (1977) na Vita ya Kagera. Mambo haya yalisababisha fedha zetu nyingi kutumika kuagiza mafuta, kujenga taasisi zetu wenyewe na kutetea mipaka ya nchi yetu. Rasilimali kidogo tuliyonayo ikaenda huko badala ya kugharamia miradi ya maendeleo.
Ndugu Wananchi;
Pamoja na changamoto zilizojitokeza, Serikali iliamua kuanzisha mpango mwingine wa maendeleo wa muda mrefu wa mwaka 1981 – 2000. Kwa bahati mbaya mpango huo nao haukutekelezwa kufuatia kuendelea kudorora kwa uchumi. Kati ya mwaka 1981 na miaka ya 90 mwanzoni, Serikali ilianza kufanya mabadiliko makubwa ya kiuchumi. Tukawa na National Economic Survival Programme (NESP) mwaka 1981 – 82 na Structural Adjustment Programme (SAP) mwaka 1982 – 1985. Mipango hiyo haikutekelezwa vizuri kutokana na sababu mbalimbali ikiwemo ya ukosefu wa rasilimali za kutosha. Kati ya mwaka 1986 – 89, Serikali kwa kushirikiana na Mfuko wa Fedha wa Kimataifa (IMF) ikaanza kutekeleza programu ya kwanza ya kufufua uchumi (ERP – I). Ya pili ikafuatia kati ya mwaka 1989 – 1992.
Mwaka 1994 Serikali ikaanza kuandaa mpango wa maendeleo wa muda mrefu utaowezesha kuzikabili changamoto mpya kufuatia mageuzi ya kiuchumi na kijamii yaliyokuwa yanaendelea nchini na duniani kwa ujumla. Kazi hiyo ilikamilika mwaka 1999 na kuzinduliwa kwa Dira ya Maendeleo ya Taifa ya 2025. Malengo ya Dira hiyo ni kuleta maendeleo ya haraka nchini na kuifanya Tanzania kuwa nchi ya uchumi wa kati ifikapo mwaka 2025. Maana yake ni kwamba wananchi wawe na chakula cha kutosha, huduma ya elimu na afya iliyo bora iwafikie watu wengi zaidi, vifo vya watoto na akina mama vipungue, wastani wa kuishi uongezeke, maji safi na salama yapatikane kwa wote, uhalifu upungue na umaskini uliokithiri usiwepo kabisa na pato la wastani la Watanzania liwe zaidi ya dola za Kimarekani 3,000. Vile vile pawe na maendeleo ya viwanda, matumizi ya teknolojia na sayansi yaongezeke, miundombinu ipanuke na uchumi ukue kwa asilimia 8 au zaidi.
Ndugu Wananchi;
Juhudi kubwa zilizofanywa na Serikali za awamu zote ikiwemo na hii ninayoiongoza mimi zimeleta mafanikio ya kutia moyo. Kwa mfano, uchumi wa nchi umekua kwa wastani wa asilimia 7 kwa miaka kumi iliyopita, mfumuko wa bei upo chini ya asilimia 10, mapato ya ndani yameongezeka, mauzo ya nje yameongezeka na hifadhi ya fedha za kigeni imeongezeka pia. Hata hivyo, idadi ya Watanzania walio maskini bado ni kubwa hususan umaskini wa kipato. Vile vile bado hatujafanikiwa kufikia malengo katika maeneo mengi tuliyojiwekea. Hata tathmini ya utekelezaji wa Dira ya Maendeleo 2025 tuliyofanya mwaka 2000 imethibitisha hivyo. Hatuendi kwa kasi inayotakiwa na utekelezaji wake siyo wa kuridhisha. Matokeo yake tupo nyuma ya hatua tuliyotakiwa kuwa. Kwa mfano, kwa upande wa safari ya kuelekea pato la wastani la watu kuwa dola 3,000 mwaka 2025, tulitakuwa tuwe tumefikia dola 995 mwaka 2010. Lakini ilikuwa tumefikia dola 545 tu. Kwa ukuaji wa uchumi, tulitakiwa tuwe asilimia 8, lakini tulikuwa asilimia 7.
Zipo changamoto nyingi za ndani na nje, zilizofanya tusifikie malengo hayo: Kubwa ni misukosuko ya uchumi wa dunia, uhaba wa rasilimali fedha na ufuatiliaji mdogo katika utekelezaji wa miradi iliyoainishwa kuleta maendeleo. Aidha, mipango na mikakati ya maendeleo ilikuwa na vipaumbele vingi kwa wakati mmoja wakati rasilimali za utekelezaji wake ni kidogo. Hali hii haikutuwezesha kujielekeza ipasavyo kwenye maeneo yenye kuleta matokeo makubwa na kwa haraka.
Ndugu Wananchi;
Baada ya kutafakari yote haya, tukafikiria namna ya kuweza kufikia malengo yetu ya Dira ndani ya muda uliobakia. Hivyo, tukaamua kuja na Mpango ya Maendeleo wa Muda Mrefu wa Miaka 15 ambao utatekelezwa katika awamu tatu za miaka mitano mitano. Katika Mpango wa Kwanza Maendeleo wa Miaka Mitano (2011/12-2015/16), maeneo yaliyopewa kipaumbele ni Miundombinu, Kilimo, Viwanda, Huduma za jamii na Uendelezaji Rasilimali Watu na Utalii, Biashara na Huduma za Fedha. Changamoto kubwa ikabaki kuimarisha mfumo wetu wa kusimamia utekelezaji wa mipango ya maendeleo ili kuleta matokeo ya haraka. Kuendelea kufanya vilevile tulivyokuwa tukifanya kusingeweza kuleta mabadiliko tuliyokuwa tunayataka katika utekelezaji wa mipango yetu. Ilibidi tubadilike, ikiwezekana tukimbie pale ambapo wengine wanatembea.
Ndugu Wananchi;
Tukiwa katika hali hiyo ya kutafakari cha kufanya, mwezi Mei, 2011 ikawa bahati mimi kuhudhuria Mkutano wa Kimataifa wa "Langkawi International Dialogue" uliofanyika mjini Kuala Lumpur, Malaysia. Katika mkutano huo, Serikali ya Malaysia iliwasilisha mada jinsi inavyoendesha na kusimamia utendaji wake ikiwemo utekelezaji wa miradi ya maendeleo na huduma kwa jamii. Mimi na viongozi wenzangu tuliohudhuria mkutano huo tulivutiwa sana na mfumo wa utendaji wa Malaysia na tukadhamiria kujifunza zaidi kutoka kwao. Tukaomba watusaidie. Bahati nzuri Serikali ya Malaysia ikakubali ombi letu na kuandaa warsha maalum mwezi Novemba, 2011. Ujumbe wa Tanzania kwenye warsha hiyo ya aina yake uliongozwa na Dkt. Philip Mpango. Waliporudi, tukaamua kuwa na sisi tuanze kutumia utaratibu wa Malaysia wa "Matokeo Makubwa Sasa" ama kwa Kiingereza "Big Results Now".
Ndugu Wananchi;
Utekelezaji wa mfumo wa "Big Results Now" hapa nchini ulianza kwa kuainisha maeneo sita yenye uwezo wa kutupatia matokeo makubwa kwa haraka. Maeneo hayo ni nishati, elimu, maji, miundombinu, kilimo na utafutaji fedha. Kazi ya kuchagua maeneo sita ya kwanza nayo haikuwa rahisi. Tulibishana sana katika kuchagua vipaumbele vichache lakini vyenye kuleta matokeo makubwa. Hatimaye tukafanikiwa. Vipaumbele hivi vinabeba msingi wa kufungulia fursa za ukuaji uchumi wa Tanzania kwa ujumla na kuchochea ustawi wa maisha bora kwa wananchi.
Hatua ya pili ikawa ni kufanya uchambuzi wa kina kupitia awamu ya kwanza ya maabara (lab) kama alivyoeleza Katibu Mkuu Kiongozi. Kazi hiyo ilitekelezwa kwa wiki sita mfululizo na wataalam wetu zaidi ya 300 kutokanyanja na sekta mbalimbali na kukamilika tarehe 05 Aprili, 2013. Nawapongeza sana kwa kazi hiyo kubwa na moyo wao wa kujitolea. Tumeandaa ratiba ya utekelezaji kwa kila mradi na programu ikionyesha kazi zilizopangwa kufanywa, mtekelezaji-husika na muda na kukamilisha kazi.
Katika mfumo huu, Mawaziri na Watendaji katika Wizara na Idara watapimwa kwa vigezo vilivyo wazi na ninyi wananchi mtapata fursa ya kuvijua vigezo hivi pamoja na matokeo ya upimaji. Hapatakuwa na siri. Hii itarahisisha usimamizi wa utendaji kwa maana Waziri au Katibu Mkuu atajifunga yeye mwenyewe kimaandishi na ataweka saini yake kwenye vigezo ambavyo atapimwa navyo na wananchi mtashuhudia matokeo ya upimaji huo.
Ndugu Wananchi;
Ili kuweza kuratibu vyema shughuli za ufuatiliaji wa utekelezaji wa miradi ya maendeleo katika mfumo huu mpya, nimeunda chombo maalum kitakachokuwa chini ya Ofisi yangu ambacho kitajulikana kama President's Delivery Bureau (PDB). Kazi zake za msingi zitakuwa ni pamoja na: kupanga na kuendesha shughuli za uchambuzi wa kina wa kimaabara (labs); kuandaa mikataba ya kupima utendaji kazi wa Mawaziri kwenye miradi na programu za maendeleo katika wizara zao; kwa kushirikiana na Tume ya Mipango kuishauri Serikali kuhusu maeneo machache ya kipaumbele yenye kuleta matokeo ya haraka (National Key Results Areas); kusaidia sekta binafsi kuwekeza kwenye maeneo hayo; na kufanya tathmini huru ya utendaji kwa viongozi wote hususan Mawaziri katika utekelezaji wa maeneo muhimu ya kitaifa.
Ndugu Wananchi;
Tumefanya kazi kubwa sana ya kuandaa na kuainisha maeneo ya kimkakati na kuyaandalia programu za kina kwa ajili ya utekelezaji. Lakini tumeona ni vyema kuwashirikisha wadau na wananchi katika jambo hili kubwa. Ndio maana tupo hapa kuhakikisha kuwa wananchi kwa ujumla wenu mnapata fursa ya kuchangia katika miradi na programu hizo kwa maendeleo ya taifa letu na watu wake.
Ndugu Zangu;
Sitapenda kuongea sana hivyo basi nataka niwape nafasi wananchi na wadau wengine mliofika hapa kupita katika eneo la kila maabara na kupata maelezo ya kina kutoka kwa wataalam. Muwe huru kuuliza maswali, kujenga hoja, kutoa maoni na kukosoa na kuboresha katika kila maabara. Baada ya kupata maoni yenu ndipo tutaboresha na kwenda kuyafanyia kazi maoni na ushauri wenu.
Ndugu Wananchi;
Baada ya kusema hayo, napenda kutamka kuwa Warsha ya Wazi imefunguliwa rasmi. Ninawatakia majadiliano mazuri na uchangiaji mzuri.
Asanteni kwa kunisikiliza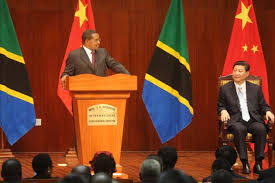 Hotuba ya Dkt. Jakaya Mrisho Kikwete, Rais wa Jamhuri Ya Muungano wa Tanzania kwenye Ufunguzi Rasmi wa Mwalimu Nyerere Convention Centre , Dar es Salaam, Machi...
Soma zaidi
Hotuba
Your Excellency, Comrade President Xi Jinping and Madame Peng Liyuan;
Excellencies;
Distinguished Guests;
Ladies and Gentlemen;
Once again I heartily welcome you, and First Lady Madam Peng Liyuan, to Tanzania. Congratulations on your well deserved election to the highest offices of your great Country: Secretary General of the Communist Party of China and most recently President of the Peoples Republic of China. We are very pleased and, in fact humbled that you included Tanzania in your first visit to Africa since you assumed the Presidency in your great country.
We in Africa highly appreciate this gesture of friendship and solidarity that in your first foreign trip, Africa is in your itinerary. And, more importantly we are anxious and excited that you will seize the opportunity of your visit to Tanzania to speak about China-Africa relations.
Mr. President;
Your visit to Tanzania will further consolidate and advance the long-standing friendship and cooperation between Tanzania and China, built on a very solid foundation by the founding fathers of our two nations, (who unfortunately all are late) President Mwalimu Julius Nyerere on the Tanzanian side, Chairman Mao Zedong and Premier Zhou en Lai on the Chinese side. The relationship we are witnessing today was further nurtured, consolidated and advanced by the successive generations of leaders in our respective countries. Fortunately for Tanzania two of my Predecessors, His Excellency Ali Hassan Mwinyi, the Second President and His Excellency Benjamin Mkapa the Third President are here with us.
Sino -Tanzania relationship has endured a lot and withstood the test of time. It is the steadfastness of our leaders and peoples of our two countries which sustained it and enabled it to grow from strength to strength. Now, we have become all weather friends. The words of Mwalimu Julius Kambarage Nyerere in a speech, delivered at the Peking Square in Beijing, during his state visit to China in February 1965 attests to underline this fact. He said:
"We shall see for ourselves what are China's intentions towards us. We shall not be told by others.... the fears of others will not affect Tanzania's friendship with China, any more than our friendship with other countries would be affected by what their opponents say of them".
Mr. President; Ladies and Gentlemen;
When President Julius Nyerere established diplomatic relations with China in 1964, visited China in February, 1965, Premier Zhou En Lai visited Tanzania in June 1965 and Tanzania supported China to take her rightful seat at the United Nations, it was at the height and intense heat of the cold war. Today, forty eight years later the fear of China by others still remains, despite the cold war having ended. Those words of wisdom by the founding father of our nation still resonate in my mind and the minds of all of us in government. They informed and guided Tanzania's - China policy for the past five decades. The fact of the matter is that: "We will always be guided by our own judgment based on Tanzania's best interests". I say this to assure you that Tanzania will continue to work closely with China at bilateral and multilateral settings in pursuit of national and global development goals of mutual interest.
Mr. President;
Next year our two countries will be celebrating 50 years of the establishment of our diplomatic relations, friendship and cooperation. Our relationship is excellent and China and Tanzania see eye to eye on many bilateral, regional and global issues. Trade and investments have been increasing. Tanzania has received invaluable support and assistance in our development endeavours as it has been the case with many African countries. These have made a huge difference in the livelihood of our nations and peoples. We will always be grateful and pray for continued support and assistance both at bilateral level and under FOCAC, which has proved to be a very useful initiative to support Africa's development. In this regard we look forward to expansion of areas of cooperation and resource.
Your Excellency; Ladies and Gentlemen;
We are gathered here this morning for official handover and inauguration of the Julius Nyerere Convention Centre built by the support and assistance from the Government and people of China. This is another important milestone in the cooperation and solidarity between our two nations and peoples. Indeed, it is quite befitting that this monumental building bears the name of the founding father of the Tanzanian nation and of China-Afri-Tanzania relationship. We could not have chosen a better name.
The Convention Centre joins the long list of other symbols of Sino-Tanzania friendship and co-operation. These include, among others, the Tanzania-Zambia Railway, URAFIKI Textiles Mills, the National Stadium and several others which for brevity of time I will not mention all of them.
The Julius Nyerere Convention Centre will provide another modern conference facility for Tanzania and will be the first of its kind in Dar es Salaam. It will now be easy for Dar es Salaam to host local and international conferences which require facilities like the ones available at this Convention Centre. I am sure it will also be a source of promoting conference tourism for the City of Dar es Salaam.
Allow me, at this juncture to acknowledge and pay homage to your predecessor, His Excellency President Hu Jintao, for accepting my request and making it possible for this magnificent Julius Nyerere Convention Centre to be built. The people of Tanzania will forever cherish this symbol of true friendship.
Your Excellency;
Before I conclude let me express my profound gratitude to the China's policy towards Africa. It has worked well and we have no doubt that the people of China will continue to walk with the people of Africa. So far China has been a dependable supporter and ally of African countries and other Third World countries, in their quest for support in their development efforts and plea for a just and equitable world economic order. We are eagerly waiting to hear from you on the policy of your administration towards Africa. It is now my singular honour and pleasure to welcome you to address this audience.
Long live China-Tanzania friendship! Long live China - Africa friendship! Please welcome.
I thank you for your kind attention.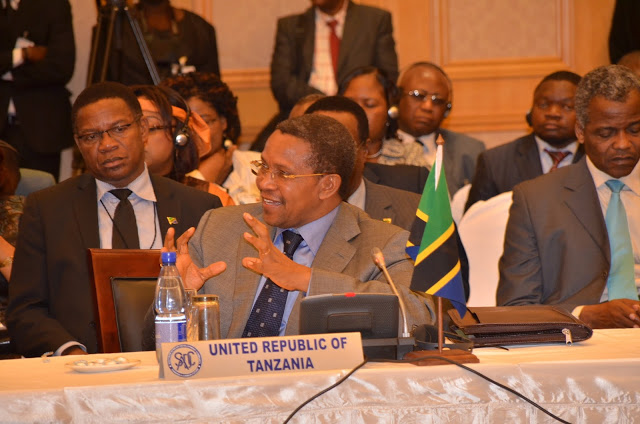 Hutuba ya Rais wakati wakukabidhi kiti cha SADC
Soma zaidi
Hotuba
STATEMENT BY HIS EXCELLENCY JAKAYA MRISHO KIKWETE, PRESIDENT OF THE UNITED REPUBLIC OF TANZANIA, ON THE OCCASION OF HANDING OVER THE CHAIR OF SADC ORGAN ON POLITICS, DEFENSE AND SECURITY COOPERATION, 17TH AUGUST, 2013, LILONGWE, MALAWI
Your Excellency Joyce Banda, President of the Republic of Malawi, Chairperson of SADC and our host;
Your Excellency Armando Emilio Guebuza, President of Mozambique and outgoing Chairperson of SADC;
Excellencies Heads of State and Government;
Heads of Delegations;
Honourable Ministers;
Your Excellency, Dr. Tomaz Augusto Salomao, SADC Executive Secretary;
Distinguished Delegates;
Ladies and Gentlemen;
Allow me to begin by thanking Her Excellency Joyce Banda, President of the friendly Republic of Malawi and the great people of Malawi for the warm reception and gracious hospitality accorded to me and my delegation since our arrival in this beautiful city of Lilongwe. I congratulate you Madam President on the well deserved election to the Chairmanship of SADC. We trust that under your able hands our regional cooperation institution will continue to make progress and attain greater heights.
I also thank Your Excellencies for the honour you reposed on me last year to Chair the Organ on Politics, Defence and Security Cooperation. I have the pleasure to present to you the report of the work of the Troika of the Organ in the past twelve months. Let me hasten to say that it was a very eventful year. The Troika met a record seven times, probably unprecedented in the history of our organization. We were obliged to do so because of the demand for action in view of what was happening in the DRC, Madagascar and Zimbabwe.
Excellencies;
On the Democratic Republic of Congo, the Troika was preoccupied with ending the fighting between the Government of the D.R. Congo and the rebels of the M23. In this regard the Troika, the SADC Chairperson and the SADC Secretariat worked closely with International Conference on the Great Lakes Region. As a result of this cooperation our two organizations agreed on a number of things to do together including the creation of the Neutral International Force. Later this force became the Force Intervention Brigade under the United Nation's – MONUSCO. Several SADC countries volunteered to contribute troops to the Brigade. Ultimately, three countries South Africa, Malawi and Tanzania were chosen by the UN to deploy. South Africa and Tanzania have already deployed Malawi is in the process of doing so.
The decision to establish and deploy this Force has not been without its own challenges. There were voices which did not favour the idea and worked to oppose it. After establishment and deployment there are efforts to discredit the Force probably for the purpose of influencing its dissolution or recall of some countries who have deployed or break the morale of the soldiers. This calls for continued support on the part of SADC and vigilance on the part of the nations which have deployed. And, the officers and men of the Force Intervention Brigade must beware of these unusual circumstances. This means, besides discharging their duties with highest levels of professionalism they must exercise and take extra caution because one would not know what is up their sleeves of those who are not happy with their very presence.
You will recall, Excellencies, that at the August 2012 Summit we also agreed on a number of things to do to help our brothers and sisters in the DRC build capacity in various fields. The idea was to assist them address the challenges they are facing. I must admit that, the security situation in the Eastern part of this country exhausted most of our energy at the expense of these other important matters. I appeal to incoming Chair to give due attention to these outstanding issues. They are equally and critically important for the future of stable peaceful and prosperous DRC.
Ladies and Gentlemen;
With regard to Madagascar and Zimbabwe, the Troika of Organ worked in close collaboration with SADC's very able Mediators. His Excellency Jacob Zuma President of the Republic of South Africa with regard to Zimbabwe and His Excellency Joachim Chissano, former President of Republic of Mozambique with regard to Madagascar. We tirelessly engaged the political stakeholders in both countries and it is encouraging to note that these efforts did not go in vain. A host of challenges were overcome and visible progress has been made.
In Zimbabwe, for example, the constitution making process was successfully concluded. The referendum on the draft Constitution was held on 16th March, 2013 and a new constitution has been put in place thereafter. This paved the way for the harmonized elections of 31 July, 2013 despite the brevity of preparatory time. SADC was able to deploy observers for both the constitutional referendum and elections. Unlike the last election, this time around the election was peaceful so people had the opportunity to vote freely.
The SADC Electoral Observer Mission issued its preliminary report to that effect. They deemed the election free and peaceful. We are anxiously awaiting the final report where they will pronounce themselves on the other aspects of the elections in accordance with the SADC Electoral Observation Guidelines.
Excellencies;
We commend the people of Zimbabwe on the peaceful elections. We congratulate President Robert Mugabe on his re-election and the ZANU-PF on convincing victory in Parliamentary seats. We commend Prime Minister Morgan Tsvangirai, Professor Welshman Ncube and their respective Parties for participating in the elections and on the hard fought campaign and for what they were able to achieve.
We humbly appeal to all parties to remain civil and where there are grievances, legal and constitutional means should be invoked. We advice against resorting to violence. It is not in their best interest neither is it in the best interest of the people of Zimbabwe and their great country. Overall as we congratulate the people of Zimbabwe on the peaceful and orderly elections, we wish them every success going forward.
Excellencies;
On behalf of the Troika, I would like to call upon this August Assembly to commend the sterling job done by our facilitator on Zimbabwe, His Excellency Jacob Zuma, President of the Republic of South Africa and officials of this esteemed government who helped him deliver on our promise. Indeed, the road has not been easy. It has many challenges, it needed the patience and diplomatic skills of the facilitator and his team to achieve what we have been able to achieve thus far. We owe them a vote of thanks and big applause.
Excellencies;
Madagascar has been very tricky and quite a challenge. However through concerted efforts of the Troika and the SADC Mediator, Former President Joacquim Chissano of Mozambique commendable progress in the implementation of the Roadmap has been made. All institutions of transition have been established and the Amnesty Law was enacted. Preparations for the elections were made, the implementation process was initiated but got stalled because of the problems which had arisen.
Perhaps the most intriguing challenge we faced was that of leaders and other stakeholders reneging on promises and commitments they make. This has been the cause of reversals as well as delays and slow pace in implementation of the Road Map. It is very much the reason behind the unreliability of the many decisions being made.
Excellencies;
Among such examples is the way President Andry Rajoelina and Former President Mark Ravalomanana chose not to honour their promise not to contest. The other is lack of respect for rule of law and the Constitution as was exemplified by the candidature of President Andry Rajoelina, Mrs. Lalao Ravalomanana and former President Didier Tatsiraka. Both these candidates and the Special Electoral Court decided not to respect the law.
The list of things not done as agreed is long. In short, the issue of Madagascar is unfinished business, hence the Troika and the SADC has to remain seized with the matter. We must ensure that the parties stick to the Roadmap and implement decisions of SADC, AU, UN and International Contact Group on Madagascar. We should also push for the reconciliation particularly of the main protagonists for the sake of durable peace and stability in Madagascar.
Another important milestone that we achieved was the launch of the Second Edition of the Strategic Indicative Plan for the Organ (SIPO II) in November last year. Your Excellencies agree with me that SIPO remains one of the key frameworks for the SADC regional integration agenda. It provides SADC with a consistent and comprehensive programme of longterm political, economic, social and security policies. At the same time it provides SADC Secretariat with a strategic direction and sets priorities for Member States.
SIPO II has been structured to respond to existing and emerging challenges facing our Region including climate change, unconstitutional change of government, illegal immigration, increase in organized transnational crime, drug and human trafficking, money laundering, illicit mining and maritime piracy. The good thing about SIPO II is that it has a strong monitoring and evaluation mechanism. I therefore, appeal to all Member States to support the implementation of this important policy document as it provides SADC with an opportunity to move forward with unity of purpose and renewed strength. Let me underscore the obvious fact that its success will depend on each one of us playing his or her part accordingly. It can be done, play your part.
Excellencies;
During the last twelve months we also undertook various activities aimed at achieving the broad objectives of the Protocol on Politics, Defense and Security Cooperation of the Southern African Development Community. I am pleased to announce that during this Summit we will witness the launch of the Hashim Mbita Research Publication following the conclusion of Member States' Chapter.
I had also the rare opportunity and privilege to work very closely with various institutions established under the Organ. I was thrilled and encouraged to learn that we have a formidable institutional set up and highly motivated staff. However, we need to do more to build the capacity of these institutions to make them more effective in responding to regional challenges. In this regard, sufficient funding should be made available to these institutions if we are to achieve the outcomes we all desire.
Excellencies;
It is clear that a lot of ground has been covered over the past twelve months but several challenges still remain ahead of us. I am confident that with concerted efforts, close cooperation and commitment of all the SADC Member States, our Region will eventually overcome the challenges. As I am handing over the baton to able hands of my brother, His Excellency Hifikepunye Pohamba, President of the Republic of Namibia, I have no doubt that our organization will effectively rise to challenges. I pledge unqualified support to our new chair in discharging his new responsibilities. He can count on me and my other colleagues in the government I lead. I wish President Hifikepunye Pohamba and the people of Namibia every success.
Excellencies;
Ladies and Gentlemen;
It would be remiss of me if I did not thank our illustrious Executive Secretary, His Excellency Tomaz Augusto Salomao his Deputies and the entire team at the SADC Secretariat and indeed our development partners for the support and cooperation rendered to me and my country during our tenure of office. We are truly indebted to you all.
And now it is now my singular honour and pleasure to officially present the Report of the work of the Organ on Politics, Defense and Security Cooperation for the period of August, 2012 to August, 2013 to the 33rd Summit of SADC Heads of State and Government for your consideration.
Thank you for your kind attention. Mercy beaucoup, Muite obligado, Asanteni sana.